Our Teachers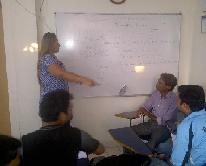 Our language teachers are either native or have vast knowledge of language, culture and have studied in Portugal or Brazil. They are well experienced in various other fields apart from language which makes them more professional.
The quality and experience of teachers at our institute makes us the best Portuguese Language Training provider in India.
Contact us for counselling appointment to meet our teachers.