Professional Diploma in Portuguese Language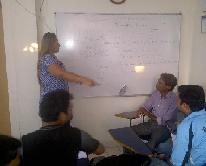 Our Professional Diploma course is an intensive classroom training divided into 3 levels:

- Basic
-Intermediate
-Advance.

You get a certificate at each level once you successfully complete the level.

Professional Diploma is conferred to those successfully completes all three levels.
Each level is divided into 40 Hours of classroom training and requires additional 60-80 Hours of self-study based on our materials, exercises, audio-viduals, internet links.
Our course content is into Brazilian Portuguese makes you enable to learn the Portuguese language and culture of Brazil. We also include lots of Accounting, Finance, Routine Activities, Travel related topics during our course. Our Portuguese language course is simplified, more professionally oriented and intensive in nature to prepare you to start using and working in Portuguese Language.

We are the only institute in India which provides it's own researched and published booklet apart from other study materials.