Admission
A prospective student willing to study Portuguese Language, need to contact via email or phone with his brief profile.
We are encouraging sincere, disciplined students with positive attitude and who are open to learn new language and culture.
Terms of Admission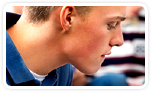 The course is taught in English, so prior knowledge of English is must. A student who is weak in English, need to work more than a student with better English knowledge.
The basic requirements for admission are as below:
Basic English Language
Open to Learn
Open to understand a new culture
Maintain decorum of the class
Be Participative
Be serious about self-study
Please contact us for admission counselling appointment.